New Year's Eve Mozart Gala Dinner in Municipal House
Come to celebrate the New Year's Eve in the beautiful Municipal House, the most significant art-nouveau sight in Prague.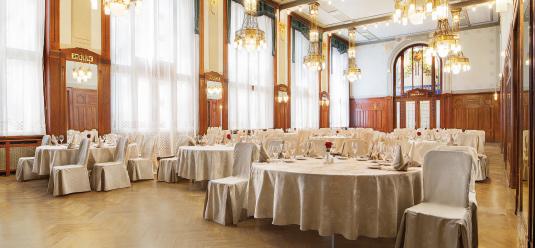 For New Year's 2018 we have prepared for you and exceptional music program together with a culinary six-course dinner prepared by the local popular French restaurant and its chef Patrik Bečvář. Enjoy Mozart's arias, duets and instrumental compositions performed by the best Czech musicians. After midnight, immerse yourself into the most beautiful waltzes and polkas by Johann Strauss II, Franz Lehar and other famous compositors.
At this venue, you will have a chance to toast at midnight at the main terrace overlooking Prague streets while enjoying the outdoor festive atmosphere.
Dress code is black tie.
Program
The program on the 31st December starts at 7:30 p.m. with a special welcome drink and ends approximately at 1:30 a.m.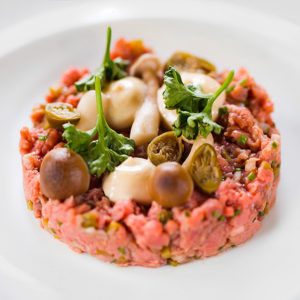 7:30 p.m. Arrival – Welcome Drink Amouse Bouche
8:00 p.m. Veal tartar with anchovy mayonnaise and marinated shimeji mushrooms
8:30 p.m. First Part
Don Giovanni
Aria Leporella – "Notte e giorno faticar"
Duet Zerlina and Masetto – "Giovinette che fate l´amore"
"A Little Night Music – Allegro" (1st movement)
Aria Zerlina – "Batti, batti o bel Masetto"
"A Little Night Music – Romance" (2nd movement)
Duet Giovanni and Zerlina – "La ci darem la mano"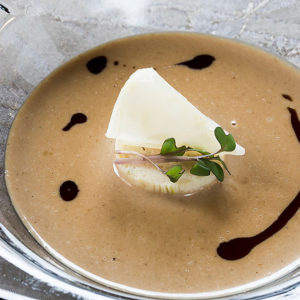 8:50 p.m. Cream of mushrooms with chicken galantine
9:20 p.m. Second Part
The Best of Mozart's Operas
Aria Figaro – "Non piú andrai" from "The Marriage of Figaro"
Aria Cherubino – "Voi che sapete" from "The Marriage of Figaro"
"Divertimento in D major – Allegro"
Aria Leporella – "Madamina" from "Don Giovanni"
"Divertimento in D major – Presto"
Duet Susanna and Figaro – "Tutto é tranquillo…Pace, pace" from "The Marriage of Figaro"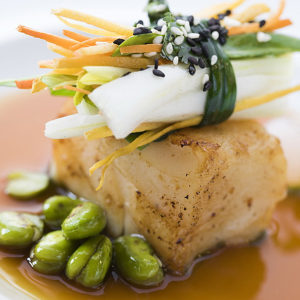 9:50 p.m. Marinated codfish in miso paste with fried beans, ginger gel and strong fish fond
10:20 p.m. Third Part
The Magic Flute
Duet Papageno and Pamina – "Bei Männern welche Liebe fühlen"
"A Little Night Music – Menuetto" (3rd movement)
Aria Pamina – "Ach ich fühl's"
Aria Papageno – "Ein Mädchen oder Weibchen"
Duet Papageno a Papagena – "Pa-pa"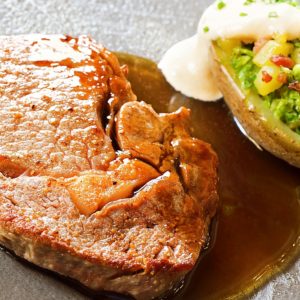 10:40 p.m. Rib eye steak with roasted potato and pancetta foam
11:10 p.m. Fourth Part
New Year's Eve
"Kaiser Walzer" – J. Strauss
"All I Ask of You" – A. L. Webber
"Unter Donner und Blitz" Polka schnell – J. Strauss
"Meine Lippen Sie küssen so heiß …". – F. Lehár
Aria Don Giovanni – "Finch´ han dal vino" – W. A. Mozart
"Tritsch-Tratsch-Polka" – J. Strauss
"Lippen schweigen" – F. Lehár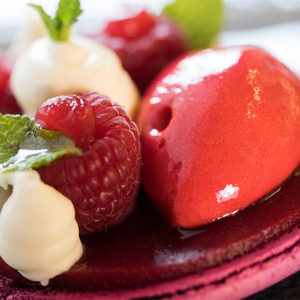 11:30 p.m. Macron with vanilla cream, fresh raspberries and raspberry sorbet
11:50 p.m. Various works by W. A. Mozart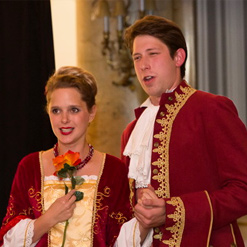 11:58 p.m. New Year's Toast
00:00 New Year's Waltz
The Blue Danube Waltz – Johann Strauss
Midnight ham with lentils, different kinds of supplements and fresh bread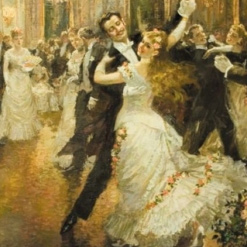 00:15 a.m. – 1:30 a.m. After Midnight Polka & Waltz
The most beautiful polkas and waltzes by Johann Strauss II, Franz Lehar and other famous composers. Dance, listen and enjoy.
Vegetarian and Children´s Menu
The price includes:
Welcome Cocktail (alcoholic / non-alcoholic)
Canapes 2 pieces
Beverage package – unlimited consumption of water and soft drinks, 1 bottle of wine, 1 cup of coffee or tea
Six-Course New Year's Eve Gala Dinner
Entertainment program
Midnight Toast
| | |
| --- | --- |
| 1 seat at VIP Zone (first row) | 10 990 CZK |
| 1 seat at first category (front seats) | 9 990 CZK |
| 1 seat at second category (back seats) | 8 990 CZK |
| Child up to 12 years | 5 990 CZK |