Dear singles
At our website we included few tips and recommendations for you, how to best enjoy Mozart Dinner, e.g., which seats to choose, when to arrive and what to order. We hope this information will be useful to you and we look forward to welcome you!
Yours Top Culture
We appreciate our regular guests
Dear visitors,
We greatly appreciate guests who visit Mozart Dinner repetitively! If you are one of our regular guests, please include a note "Regular guest" with your next reservation. If there is a record of reservation at your name from the past, you will get a little gratitude.
We look forward to you!
Yours Top Culture
We kindly ask you to pay attention to timely arrival to the venue
Dear visitors,
We kindly ask you to pay attention to timely arrival to the venue. Late arrivals disturb other guests and delay the concert start. Performance always begins at 7 pm, as such, drinks can be ordered only until 6.50 pm latest. In case you are aware of late arrival upfront, we suggest you book seats at the balcony box where you can be served drinks even after concert start without any disturbance to other guests.
Thank you for your understanding and cooperation, and wish you a wonderful experience!
Yours Top Culture
New drink package from September 2015: free choice of wine and more drinks!
Dear guests,
We are responding to your request to enrich drink package and from September 5th we are offering a new drink option including free wine selection and more drinks. Newly we offer 4 drinks – 1 soft drink, 1 wine of choice – glass 0,15 l, 1 cup of coffee or tea and any 1 drink of your choice (beer, wine of choice – glass 0,15 l, soft drink, or Bohemia Sekt Brut Chardonnay 0,15 l). Comparing to the drink list it represents up to 40% discount. We believe that this offer will satisfy you and enhance the overall Mozart Dinner experience.
Your Top Culture
New Menu from 11th of April
Dear viewers,
From 11th, April we are presenting new menu! It was compiled by famous chef Lukáš Vokrouhlík who already for the second time will represent Czech Republic at the Expo – The Universal Exhibition on industry and culture. Recipes are again Czech-Austrian and were chosen to provide great artistic experience in addition to gastronomic experience. What is there to look forward to? As a starter you can try pea soup with buttered croutons, main meal are very popular beef cheeks in red wine and thyme, served with celery and potato puree and in the end you will be served traditional Czech-Austrian dessert – homemade apple strudel.
Bon appetite!
Your Top Culture
TripAdvisor award – Certificate of Excellence
Dear customers,
We are excited to share good news, Mozart Dinner has been awarded a renowned TripAdvisor award – Certificate of Excellence.
This prestigious award recognizes those businesses that consistently earn top ratings from TripAdvisor travelers. Thank you for the trust you gave us, we appreciate it very much!
Your Top Culture
Valentine´s Mozart Dinner
Dear viewers,
maybe you are in love; maybe you want to propose to your partner or just to celebrate Valentine's Day at a beautiful location in the center of Prague. Valentine's Dinner with Mozart is the right choice for you! Enjoy romantic candlelight dinner and listening to the best of Mozart, including a three-course dinner inspired by recipes from Mozart's time.
We look forward to host you and we are happy to meet any special requests; just contact us to info@mozartdinnner.cz.
Your Top Culture
Prof. Ivan Klánský, world famous Czech pianist, music professor and laureate of many international competitions visited Mozart Dinner, this time in the role of a father listening to his son, baritone, Daniel Klánský.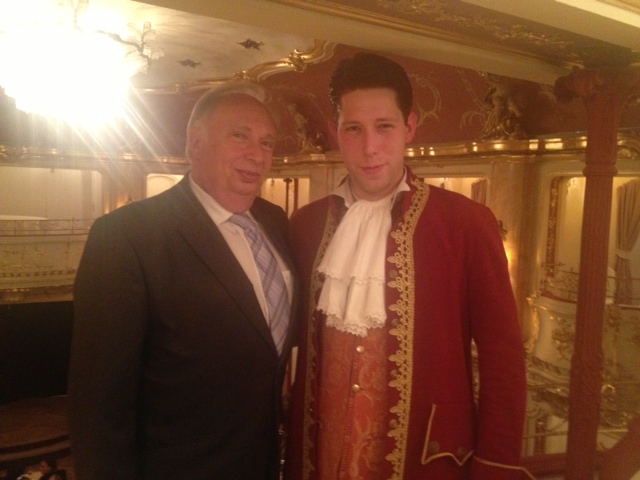 "Today's Mozart gala evening was extremely refreshing experience for me. Combination of outstanding professional vocal performance, music selection for every type of music enthusiast and a beautiful setting with perfect evening added hallmark of something quite exceptional in the city of Prague. That's how our musical art should be presented to foreign and also czech listeners."
prof. Ivan Klánský
Dear viewers,
Traditionally we prepared Easter Mozart Dinner even this year. You can choose from Easter Saturday or Easter Monday to celebrate this spring holiday at the historically protected ballroom in the center of Prague and enjoy this special day at the wonderful performance by Terezie Švarcova a Daniel Klánsky.
Your Top Culture
New prices in drink menu and new ticket categories including drinks!
Dear audience,
We listened to your feedback and introduced changes in drink prices. We reduced cost of some of the wines and extended our offer with various whisky and cognac. You also have an option to choose new ticket category that includes drink package in the amount of 210 CZK with 1 glass of local wine, 1 cup of tea or a coffee and 1 soft drink.
We believe that those changes will increase your satisfaction.
Your Top Culture