Celebrate the New Year's Eve at Mozart Gala Dinner in Municipal House
For New Year's 2018 we have prepared for you and exceptional music program together with a culinary six-course dinner prepared by the local popular French restaurant and its chef Patrik Bečvář. Enjoy Mozart's arias, duets and instrumental compositions performed by the best Czech musicians. After midnight, immerse yourself into the most beautiful waltzes by Johann Strauss II, followed by beautiful songs by Frank Sinatra and other world-famous blues and jazz songs.
At this venue, you will have a chance to toast at midnight at the main terrace overlooking Prague streets while enjoying the the outdoor festive atmosphere.
For more information, please click here.
Jubilee concert of world-renowned piano virtuoso Ivan Klánský
An extraordinary experience awaits the Czech music scene in November. Father and his four sons will perform at the Rudolfinum in Prague. The world-renowned piano virtuoso Ivan Klánský is going to celebrate his 70th birthday by an exceptional concert, accompanied by his talented offspring.
The gifted and successful descendants of Ivan Klánský walk in their father's footsteps and sell out the halls at home and abroad. His son Lukáš is also a pianist, his son Vladimír plays violin, Adam on cello and Daniel, who performs at the Mozart Dinner,  is a top bass-baritone singer. The well-known Epoque Quartet, whose member is Ivan's son Vladimír, will also perform at the concert.
The jubilee concert, called Ivan Klánský & Sons, will take place in Dvořák Hall of Prague Rudolfinum on November 23, 2018. Tickets are already on sale. For more information, please visit Live City web.
Unlimited beverage package and welcome drink from May
Dear Guests,
In May this year we are launching a new ticket category with unlimited beverage package including unlimited consumption of wine, beer, soft drinks and hot drinks during the whole event. We are also newly introducing a welcome drink that will be included in all ticket categories. We hope that you will enjoy Mozart Dinner even more thanks to this change which is reflecting your feedback.
Yours Live City
New Year's Eve Mozart Gala Dinner 2018 newly also in the Municipal House!
Dear Guests,
After the great success of New Year's Eve Mozart Gala Dinner last year, we have decided to newly organize it at two places at the same time.
You will have an opportunity to celebrate it with us traditionally in the beautiful neo-baroque Boccaccio Hall of Grand Hotel Bohemia. Newly also in Sladkovský Hall, in the most significant Prague Art Nouveau sight, in the Municipal House.
Mozart Gala Dinner will be very similar at the both venues. New Year's Eve entertaining program will be the same, you will only find a minor difference in the festive six-course menu. You will have a chance to enjoy a midnight toast in more private atmosphere in Boccaccio Hall compared to Municipal House where it will be held on the main terrace overlooking Prague streets.
We are looking forward to welcome you at one of these beautiful places!
Your sincerely
Live City
Advent and Christmas Dinner Concerts in December and New Year's Eve Mozart Dinner and Gala Dinner!
Dear audience,
in December we are preparing for you advent and Christmas concerts with Christmas atmosphere in decorated Boccaccio Hall and concert program enriched by Christmas carols.
In addition to Mozart operas, our opera singers Daniel Klánský and Terezie Švarcová (or Gabriela Kopperová and Andrej Beneš) will sing the most beautiful Christmas carols at the end of the program.
On Christmas Eve and Christmas Day you can look forward to a special Christmas menu and extended concert program.
A special New Year's Eve Opera programm will be performed at the dinner concert on 29th and 30th December 2017 with Johan Strauss waltzes in the last concert part and our singers will toast to a Happy New Year.
On 31st December you can experience exceptional gala dinner with Mozart with excellent entertainment even after midnight and with a six-course dinner. More information can be found here.
Come and enjoy Prague in its traditional Christmas and New Year's Eve atmosphere!
Your Live City
CZK 100 discount on the most reliable taxi in Prague! Download the app, insert your card number and promocode and the discount is yours.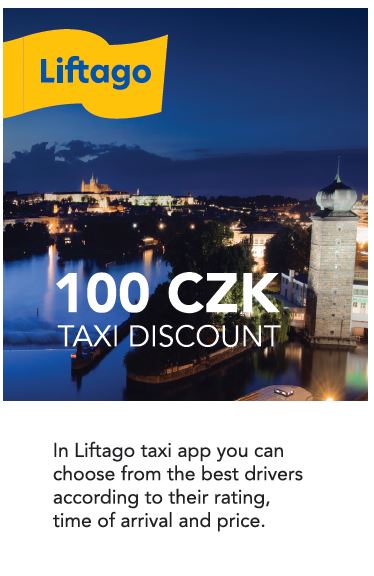 Dear guests,
We wish your visit in Prague will be as pleasant as possible, so before the start of each event we will present you with a card '100 CZK discount' on the most reliable taxi in Prague – Liftago.
Same as at well-known TripAdvisor, the drivers are rated 1 to 5 stars, so you can always choose the best one and avoid unpleasant surprises.
We look forward to welcome you!
Your Live City
Dear singles
At our website we included few tips and recommendations for you, how to best enjoy Mozart Dinner, e.g., which seats to choose, when to arrive and what to order. We hope this information will be useful to you and we look forward to welcome you!
Yours Top Culture
We appreciate our regular guests
Dear visitors,
We greatly appreciate guests who visit Mozart Dinner repetitively! If you are one of our regular guests, please include a note "Regular guest" with your next reservation. If there is a record of reservation at your name from the past, you will get a little gratitude.
We look forward to you!
Yours Top Culture
We kindly ask you to pay attention to timely arrival to the venue
Dear visitors,
We kindly ask you to pay attention to timely arrival to the venue. Late arrivals disturb other guests and delay the concert start. Performance always begins at 7 pm, as such, drinks can be ordered only until 6.50 pm latest. In case you are aware of late arrival upfront, we suggest you book seats at the balcony box where you can be served drinks even after concert start without any disturbance to other guests.
Thank you for your understanding and cooperation, and wish you a wonderful experience!
Yours Top Culture
New drink package from September 2015: free choice of wine and more drinks!
Dear guests,
We are responding to your request to enrich drink package and from September 5th we are offering a new drink option including free wine selection and more drinks. Newly we offer 4 drinks – 1 soft drink, 1 wine of choice – glass 0,15 l, 1 cup of coffee or tea and any 1 drink of your choice (beer, wine of choice – glass 0,15 l, soft drink, or Bohemia Sekt Brut Chardonnay 0,15 l). Comparing to the drink list it represents up to 40% discount. We believe that this offer will satisfy you and enhance the overall Mozart Dinner experience.
Your Top Culture